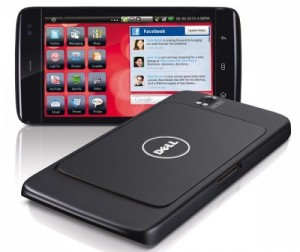 As the Apple iPad makes huge waves in the tablet PC market, recording amazing revenues from sales other competitors quickly jump into the game. Entering the playing field is Dell's Streak Tablet PC which starts its pre-sales tomorrow August 12th.
The Dell Streak will have a customized edition of Google Android Operating System, built in WIFI, 5meg camera with dual LED Flash, 5" screen & a 1GHz Snapdragon processor. It is also said to according to an August 10th statement released by Dell to have access to the Android Marketplace  & Dell specific "interface enhancements".
Dell plans on marketing the Streak as portable entertainment, navigation & a social networking device. Dell also plans on selling the Streak for $300 with a two year contract with AT&T or $550 unlocked.  The Streak's ability to web-surf, make phone calls & it's amazing multimedia display is what Dell hopes will set the Streak apart from its existing and future rivalry.
Other heavy competitors have revealed plans to unveil various tablet PC's in the upcoming months. HP is rumored to be launching a tablet running Palm WebOS soon while other competitors are looking to unveil their tablet pc's with either Windows 7 or follow in Dell's footsteps of the Google Android Operating System.
With the recent explosion of the tablet PC popularity and its anticipation for the future it is not really a question of whether or not the general consumer will purchase one but rather which one they will ultimately decide on.