The OOMA Voip device offers unlimited US calling for a one time charge of around $250.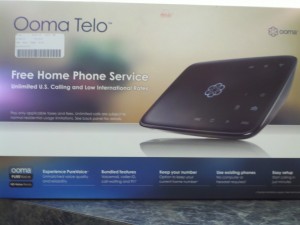 For a great review and cost break down check out http://garyandwendy.com/wordpress/2010/08/08/detailed-review-of-ooma-plus-the-pros-cons/
My only complaint was the instructions for the average user are a bit difficult if you are running any sort of router on your home network.  Below are some settings that may assist others with setting up their Ooma box.
Pros:
Good call quality.
Getting rid of my cable company's $40 a month phone bill.  (you still have to pay federal taxes etc which comes to around 3.50$ per month)
Once setup, it seems very reliable.
Cons:
Phone support is worthless, so you'll have to dig through forum posts to get specific answers to some things.
Basic DSL may not be fast enough for you (a steady 384 upsteam is best at minimum)
Ooma's "Plug and go" instructions don't necessarily work for everyone
Other than that it appears to be a really good alternative to switching from your phone or cable company.
Here's what we did to get the device working with our Linksys Router (different routers may vary slightly in setup):
1. Plug a network cable (supplied from Ooma) from computer or laptops network jack into the Ooma's "Home Network" Jack.
2. Renew your PC's IP address or reboot it. The Ooma will serve a 172 to the computer if done correctly.
3.  Navigate the PC with Internet Explorer (Google Chrome didn't work – didn't try Firefox) to http://setup.ooma.com
4. The Ooma Setup setup page will be displayed
5. Navigate to the Advanced Screen and mirror these settings (click image to enlarge):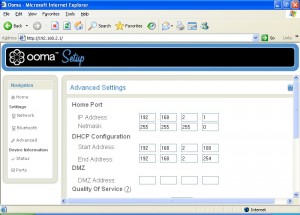 6.  Update/Save Settings and reboot your Ooma device and now wait for the PC to reaquire an IP from Ooma- then navigate Internet Explorer to your Ooma setup again address http://setup.ooma.com or 192.168.2.1 if that doesn't work.
7.  Navigate to the Network Page in the Ooma Setup and mirror these settings to match your Routers DHCP range (settings may vary depending on your router)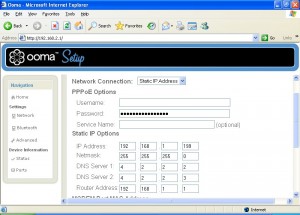 (We used Free public DNS Servers 4.2.2.* because our cable company's is truly terrible)
6. Disconnect the PC and hook your Ooma  back into the Router and switch network cable from the Home Network Port to the Internet Port.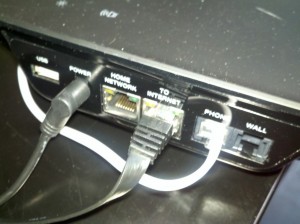 7.  Reboot your Ooma device wait about 5 minutes for it to sync with Ooma servers and you should be all set.  The center light will turn Blue and you can make phone calls for free.
Leave a comment if this worked out for you, or if you have any suggestions for an improved method.