This one's pretty good, and is quite common recently with Acer and Windows 8.
Hopefully it will help a few of you out there that are 10 seconds away from throwing your laptop at the wall.
Lately, Acer's laptops may randomly black screen and will no longer boot.
Causes: Not really sure. Probably something with a combination of a Windows/Driver update.
This may fix your issue as it fixed several machines here at the shop:
Symptoms:  Machine turns on, however has a black screen with no acer logo,  the backlight on the LCD may or may not be on.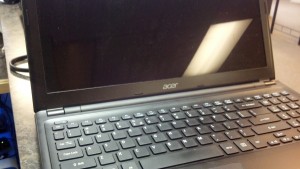 CAUTION:  Not taking responsibility if you toast your machine.  follow the below instructions at your own risk.  In most cases Acer Warranty should cover you, if you still have it.  Call them and find out if you are uncomfortable with doing the below procedure.
CAUTION:  please read the above caution again.
Step #1:  Get your Acer BIOS update files – remember, you need to locate your correct bios for your serial # or model number.  don't mess this up.
Located here:  http://support.acer.com
Locate by Model or Serial #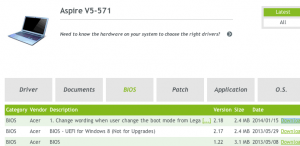 Step #2: Extract the Zip or EXE with WinRar or 7Zip into the root of your FAT32 formatted USB Thumb Drive  – It should look like this: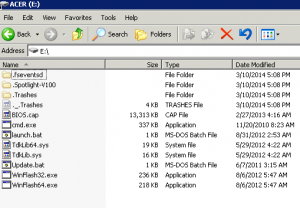 Note:  You must format your USB for FAT32, and please note that some acer bios downloads files are zip or extractable .exe
Step #3:  Put the USB flash drive into one of the ports and make sure your laptop is off, battery in, and plugged into the wall.  Any sudden loss of power could brick your machine.
Step #4:  Hold ESC & FN key and while holding then press the power button.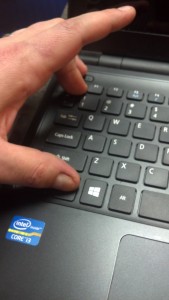 Keep holding for a few moments (mine took about 30 seconds) until you see this: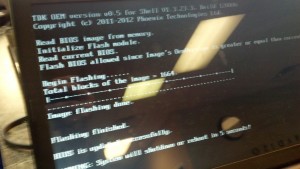 Step #5:  Your machine should boot again.
Step #6:  DAT ACER!