This is a weird one I came into last month.   Certain Asus machines that run Windows 8 come with Asus AI charger.  This application like many of the crapware that comes with new machines shouldn't be installed on the machine in the first place but the factory has to feed the public with the marketing ploy that ITS GONNA CHARGE YOUR IOS DEVICES FAST!
On certain machines in order to update to Windows 8.1 you need to remove it, or Windows won't install the 8.1 update.
Some of you have expressed concern that AI Charger is awesome and you won't remove it.  That's fine – Enjoy Windows 8.
The main problem being some machines are unable to remove this application because it is not in "Programs and Features" to uninstall.
Some machines will have "Asus Application Suite" in "Programs and Features" and by clicking "Change" some people will see AI charger to remove.  Others don't
Here is a way to remove the application if all other attempts have failed.
Remove Asus AI Charger (you can always install it after the ugprade)
Go to your Task Manager (Hit Control – Alt – Delete -> Task Manager)
(or run (Windows Key + R) Msconfig -> Open Task manager)
Once in Task Manager:
Under the Startup Context menu and locate the item called:
AIChargerPlus MFC Application and DISABLE it.
We're not done yet, Windows 8 will still detect the application is on the machine, we need to remove the files as well.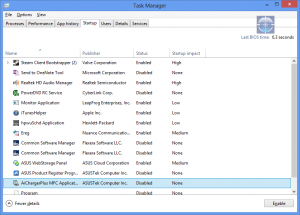 Once it's disabled:
Right click AsusAI Charger again
Now go to Open File Location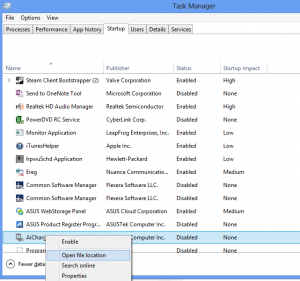 Once you open file location, it will bring you to a random Windows Temp folder,  remove/delete all items in this directory.
There is usually around 10-20 files in that folder.
Reboot the machine again, and attempt to do the Windows 8.1 Update again,  it should go through now.
Link to download Windows 8.1:  http://www.microsoft.com/en-us/download/details.aspx?id=42327