Our service includes a full replacement of the USB-C charging port on your Nintendo Switch or Nintendo Switch Lite console.
This is a very difficult repair due to the nature and location of the solder pads hidden from view of the Switch Charging Port.
We have developed and programmed special tools for the safe removal of this port without damaging, warping or burning the board.
We don't recommend hot air station repairs as they can be unreliable as well as rip pads in the process of removal due to uneven heat.
We use a higher quality jack than the Original Nintendo Switch USB-C Jack so it will be more reliable than the original.
While your console is here, as a courtesy we will clean the cooling system and apply new thermal paste to the CPU.
Please Note:
Please understand that after doing hundreds of these repairs, in some cases your damaged USB-C port can take out other components beyond the Nintendo Switch Charging Port.
But the first step is to remove the charging port to clear up any crossed pins etc on the USB-C Side.  
Nintendo's implementation of USB-C uses a non-standard voltage delivery as well as non-fused circuits on the Nintendo Switch boards.
This is why it's important to always use a Nintendo Brand charger:  >>>  You can purchase one here  <<<
This is also particularly relevant to people who keep prying and trying to plug in their Switch Charger after it's been cracked up, using an after-market / 3rd party dock or charger, or using a damaged charging cord.
We may need to replace other components on your Nintendo Switch mainboard for the unit to function again.
If this is the case we will contact you and let you know what has to be replaced and communicate any additional costs to you.
Repair shops:  Please ask about our bulk order discount services.
What to include:
Only your Switch Or Switch Lite Console is needed.
If you are having JoyCon issues such as drift, include them, and we can quote the repair. 
Please inspect your USB-C charging cable and dock to make sure it is not cracked and free of any bent pins, include it if you are unsure.
Typical turnaround time:
These repairs are done in 3-5 business days, however in some cases it may be longer depending on work load, part availability, and damage sustained.  
Instructions:
You may have found this page via Google or been directed here by our team via email.
Simply do an order and after payment has been processed you will need to ship your unit or drop it off to us.
Once you get your confirmation email and your Order #
Please drop off to our office or ship your device via USPS, UPS or FEDEX to:
Logistics [Order #]
361 Boston Post Road
North Windham, CT 06256
Shipping back:
Once your Nintendo Switch or Switch Lite is repaired, we will email you photos of the unit working & charging correctly on and dock mode (if applicable).
At that time we'll dispatch a Paypal Shipping invoice to be paid via Email and your machine will be back on its way to you using USPS Priority Mail 2-3 Day. 
If you request a different shipping carrier, added insurance or want signature on delivery, please let us know up front.
We'll pretty much accommodate anything you need because you're cute and loyal.
A typical day here: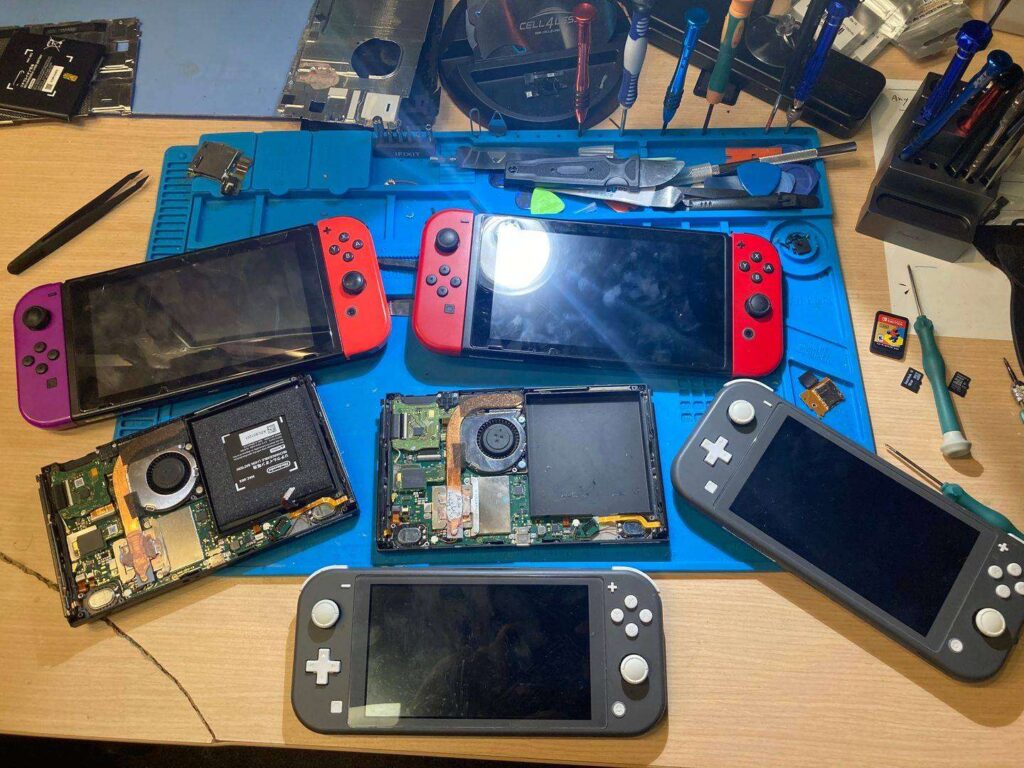 Terms & Conditions + Warranty Information
We will take photos of your unit charging and any additional repairs if needed and send them to you via email so you know everything is functional and tested working.
You would be responsible for shipping device to us.
Shipping insurance is optional but we do recommend it for higher priced electronics.  Shipping can be a wild ride.
Please allow extra time for repairs if components and/or parts are not in stock.
Once device is repaired you will pay any of the outstanding invoice should there be any and for the shipping back to you.
Should your device be unrepairable we will refund your purchase price, less any cost of materials used.
You will be responsible for shipping – we do not provide free shipping.
Parts & Labor Warranty is 6 months from date of delivery back to you.
Parts & Labor Warranty does not cover ports physically damaged and visibly bent/cracked again.
However we understand that things happen and will make every effort to work with you on it.
Understand these devices are very sensitive, re-damaging your newly soldered USB-C port will void your warranty.