Getting this one to work was weird, although it works, it is not 100%.
It's a decent controller for $20.  Not anything like an Xbox or Playstation controller quality wise, but it's functional, and works well with smart phones for games on the app stores, and works fine with NES/SNES emulators and roms on the PC.
What's strange is the device won't allow you to pair it with Windows normally.   Read on for a little trick on getting it to work: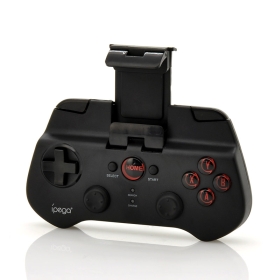 Things to know before beginning:
The first time setting it up, it doesn't allow to enter a pairing code,  after you connect this device for the first time, with the right click menu we use to get it to work, I wouldn't try to pair it.  I think that's what won't allow you calibrate the device anymore, so use the pairing feature with the device at your own risk.  I didn't spend too much time messing with it.  If you figure out a way to get this going – post in the comments and I will give you credit here.
Let's get the Ipega working with Windows:
Step 1:  Make sure you have the blueteeth and it is turned on.  Otherwise get one on ebay for cheap
Step 2:  Click your bluetooth icon in Windows 7 and Click: Add Device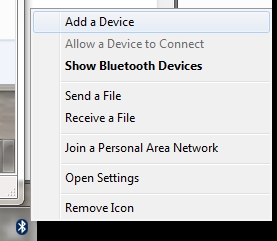 Step 3:  Windows will begin searching for a new bluetooth device   Get your Ipega Controller and hold the X key and the HOME button, and windows will find the device.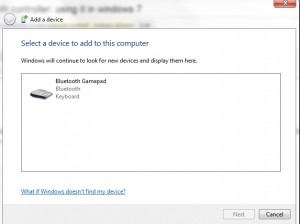 Step 4:  Right Click the Device and go to Properties  You will come to this screen.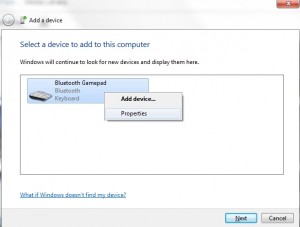 Step 5: Check the box for  Drivers for keyboard, mice, etc (HID) and hit OK.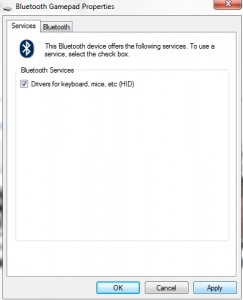 Windows will then install drivers and you will now be able to use this device in Windows.  You should gain access to be able to right click the device and calibrate the controller.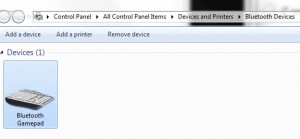 The Light on the Ipega under the Home Button should stay solid.
After some time it may go off due to inactivity to save battery life – pressing the home button will usually repair the device, sometimes it does not.
Trying to add the device again in Windows after the controller shuts off due to inactivity may now prompt a pairing code.
The code 0000 will work.  However the method of re-adding this device with the right click -> Properties method above seems to work the most stable.
Things I've noticed after using this for a week:
The Up and Down arrows sometimes are non-responsive sometimes you need to tap it again, possibly its my bluetooth, the controller, or the drivers windows installs.  It's not unusable, though.
After the device times out you will sometime need to do this whole process again, it depends.
After some time, Windows 7 decided to change the drivers it was using, and not let me re-calibrate the device.
All games still worked normal, and I was still able to set button configurations.