Nintendo Switch USB C Charging Port Repair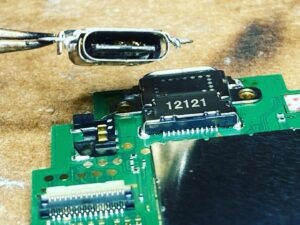 Believe it or not Nintendo Switch, Switch Lite and even the new Nintendo Switch OLED Model USB C charging port repairs are one of the most common micro soldering repairs that we do here.
Nintendo Switch USB C charging port repairs are all done in house by our technician with state of the art equipment. 
Due to the sheer volume of Nintendo Switch USB C charging port repairs we have streamlined a process to get your Nintendo Switch up and running and shipped back to you in a timely manner.
HOW DID I BREAK MY USB C PORT?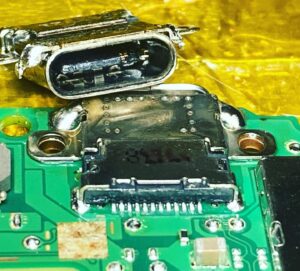 Realistically, it's because the USB C ports are not indestructible.  It is relatively easy to break the port and cause pin damage, it is only made of plastic, copper and sheet metal. 
Put that device in front of a 7 or 8 year old, and it can quickly become an expensive experience if the port gets annihilated.
Most commonly we have seen the USB C port broken when different chargers such as an Apple, or Mini-USB Cable or sometimes they fall; that along with constant docking and undocking of the switch that just wears down the port overtime. 
Less commonly a Nintendo Switch USB C port gets broken due to the owner using an aftermarket charger and / or a USB C charger from another device.
We have seen on many occasions that the use of a non-Nintendo charger such as a Cell Phone charger has caused additional damage to the board itself beyond the charging port. 
If is very important, if you see any bent pins, don't try to fix it or try to bend the pins back; the jack HAS to be replaced.   
Bending and crossing pins puts other parts at risk, Nintendo did not fuse their internal circuits correctly.
HOW DO I KNOW IF MY USB C CHARGING PORT IS BROKEN?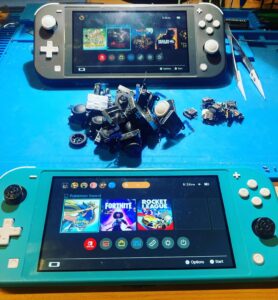 Does your Nintendo Switch recognize your Nintendo charger or docking station?
If not, chances are the USB C port is broken and needs to be replaced.
While damage to the port can absolutely be microscopic, inspect the USB C port. Does it appear damaged? Are there bent or broken pins?
If there is no physical damage to the port try the additional suggestions before ultimately deciding if the port is broken and / or there is other damage to the board.
Discharge power from the AC Adapter
Remove the AC Adapter charger from both the wall and from the Nintendo Switch. Leave it completely unplugged for a minimum of 1 minute then try connecting again.
Perform a soft reset of your Nintendo Switch
Performing a soft reset will not cause  the switch to loose its data. Press and hold the power button for 20 seconds.  Press the power again once more for the console to turn on. The power button is located on the top left of the console.
If none of the above actions are successful and you are using an official Nintendo Switch charger and / or docking station chances are you will need your console repaired. 
CAN YOU FIX MY BROKEN Nintendo Switch USB C Charging PORT?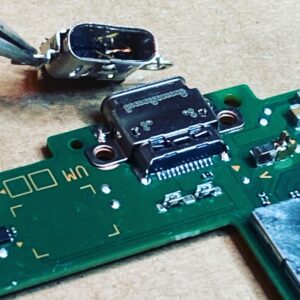 Yes.   While we repair all types of consoles. Nintendo Switch USB C ports are one of the most common micro soldering repairs we do around here.
We streamlined the repair process by purchasing state of the art equipment to get as many repairs done in a given week as possible. If you are interested in having us repair your Nintendo Switch USB C Charging Port repaired click here to visit our shop and add the USB C Charging Port Repair service to your cart. Get all the details on what you need to do and where to ship it from the above link. If you live locally in Connecticut you can drop it off at our office during our posted business hours.
We will get your Nintendo Switch up running so you can continue playing your favorite Nintendo Switch games in no time at all. 
Visit our instagram to see past Nintendo Switch USB C Port repairs and other console jobs we have done. 
SOMETIMES IT'S NOT JUST THE PORT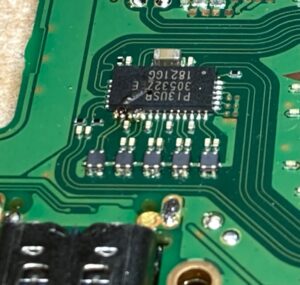 Occasionally there is other board level damage. Board level damage happens as a direct result of the faulty USB C port. Obviously we are unable to know if there is additional damage until we inspect the board under our microscopes, but if we do come across other issues we will take pictures of the damage and let you know what it will cost to do the additional work. 
Nintendo Switch's with additional damage is most commonly caused by a previous failed repair attempt. If the USB C port is not removed properly we have seen damage to the surrounding areas of the board. 
Occasionally we see ripped or missing pads under the USB C Port. This happens  when the port either takes physical impact damage. Ripped or missing pad can also happen if the port wasn't properly removed during a failed repair attempt. 
Knocked out or missing SMD components can also occur from port damage or a failed repair attempt. The SMD components are located all around the board and the USB C port. We have seen ports that have been pushed in quite aggressively. So much so that USB C port is no longer attached to the board. Sometimes the the port has been pushed in with so much force that it does additional damage to the board. We have seen the SMD components that sit behind the port missing or cracked off.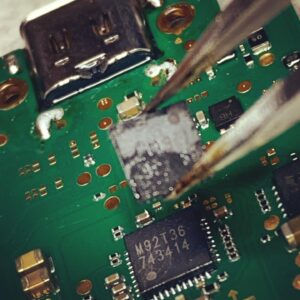 Electrical Damage is another form of damage we have seen with Nintendo Switch  consoles. There are up to three additional chips that can blow when the USB C port takes damage. These chips include the video IC chip, the power IC chip and battery charging chip. We must have stable power to the unit before we can determine if other chips are blown. Once we replace the USB C port we will be able to determine if any of these chips are blown. 
In some cases the customer may need to purchase a new official Nintendo charger or docking station after the port on the Nintendo Switch has been repaired. This happens when plugging these charging devices into the damaged USB C port on the console. Docking station damage is rare but can happen. If you are uncertain of other peripherals having damage we can take a look at them as well.  Include anything you would like us to inspect. We will let you know if your charger or docking station is also bad. 
Unrelated to the console itself the joy-cons themselves can have issues.  Common joy-con repairs include: joy-con "drift", button sticking and even joy-con rail issues that often have the symptoms of random joy-con disconnection from the switch.