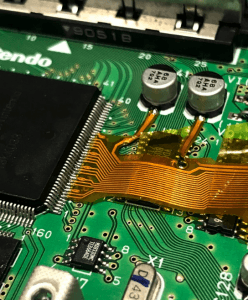 At Logistics we specialize in board level micro soldering repair of electronics. We use state of the art equipment along with high end materials to ensure the quality and longevity of each repair we do. From power issues to stability issues to data recovery we are equipped to repair and replace the components on many consumer and industrial electronics. While most common micro soldering repairs done in house are for video game consoles, phones, tablets and computers we also specialize in the micro soldering of other electronics such as appliance system boards, automobile electronic components, and industrial machinery.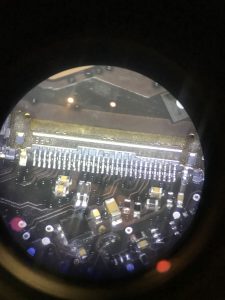 Phone & Tablet Micro Soldering
Is your Android or Apple phone not charging? Did your phone go swimming in water and no longer turns on? Is your phone not recognizing the touchscreen or sim card? Board level micro soldering repairs can resolve most of these issues. Having issues with your phone or tablet can be very frustrating. Until a problem arises most people do not realize how much they depend on and use their phone. If you have ever had to replace your phone or tablet that was not covered under some type of warranty or had insurance you know that the cost of a new phone is not cheap. We can perform board level replacements of FPC connectors, chips, capacitors, resistors and filters on your phone or tablet.
We can repair the following (but not limited to) phone and tablet board level micro soldering problems:
Phone or tablet not charging. We can solder a new charging port or docking station component on the board. Faulty battery ports on the board can cause charging issues. We can micro solder these connections.
Camera, Wifi, Sim Card not recognized or unstable? If these pieces are soldered to the board or their connections are faulty we can replace parts. We can re flow and re solder any broken lines. If your phone is displaying a "no service" message and you know your sim card is good, it is most likely the sim card slot. We can remove the faulty reader and solder a new one in place.
LCD, digitizer and backlight issues. Are you having touchscreen issues? We can replace the touch IC on iphone 6 and 6 plus.
Liquid damage causing phone to not turn on.  Liquid damage repairs are a bit more involved than other repairs. In most cases we can perform board level repairs to salvage most if not all of the components without having to replace parts or the phone in general.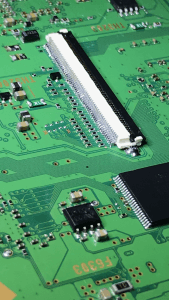 PC & Mac Logic Motherboard Repair
Does your computer show that it receiving power but won't turn on? Did your mac book drink a bottle of wine and it no longer wants to turn on? Is your machine turning on but there is no display on the screen? Many times these power issues are board level issues and can resolved. With our state of the art equipment we can solder new pads, capacitors, resistors, chips, filters and FPC connectors on your PC motherboard or Mac logic board.
Our board level micro soldering repairs for PC & Mac Board include: 
Machine turns on but there is no display. It could be due to the LCD connector on the board. We can remove the bad one and solder a new one in its place.
Power Issues. When plugged in laptop lcd power light shows the machine is getting power but it won't power on. A faulty power button connection can cause this issue. We can re-solder connections and buttons.
PC or Mac not turning because of liquid damage. Liquid damage repair can be a bit more involved than other board level repairs. However, with that said we can usually repair or replace board level components, thus salvaging the board. We can do this many times without having to replace parts. We can re solder broken connection points, pads, resistors, chips etc.
No Power Issues. If your DC/power jack broken it will cause your machine not to boot. We can remove and re solder a new charging port into your laptop.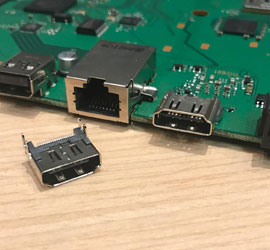 Micro Soldering Of Other Electronics
While we specialize in the micro soldering of electronics for computers, video game consoles, phones and tablets we are adept to repair a wide rage of devices. We have the equipment and knowledge to solder a variety of board level components, including, but not limited to capacitors, resistors and fuses. We can also rebuild broken traces and pads on boards. Short of there being a hole in the PCB or the short being between the layers of the PCB we can pretty much fix anything.
Please contact us first to let us know what you need repaired. We will let you know if it is something we can take a look at. We will let you know if you need to include the power charger or other peripherals. For more specialized equipment we will expect you to have some knowledge of your equipment to tell us what work you would like done.
Electronic equipment is going to range in size and complexity. Some equipment cannot be transported. Some equipment is too large. For may board level repairs we will only require the board and not the full piece of equipment. Call or email us to find out what parts we will need. We will try to keep your shipping or gas expenses as cheap as possible.
Other electronics we can perform micro solder repairs on include:
Appliance motherboards including fridges and stoves
TV Motherboards & sister boards
Automotive Electronics
Video Game Consoles
Industrial  Machinery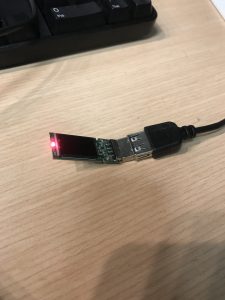 USB Data Recovery Micro Soldering
Does your PC no longer recognize your external drive? Do you need those selfie pictures you took with your dog ten years ago to use in your new plenty of fish profile? Is your final due and you just found the USB Thumb drive it was saved on snapped in half? We can re solder broken pin connections on even those tiny USB thumb drives and recover your data.